The Career Connection to Teaching with Technology (CCTT) was an United States Department of Education funded Technology Innovation Challenge Grant operating from October 1997 through June 2003. Our grantís mission statement was "to develop standards-based curriculum materials and deliver them to the educational community through integrated technologies."

CCTT proposed to involve outstanding teachers from geographically diverse schools and districts in the development of educational resources, aligned with challenging state and national standards. Guided by content experts from national curriculum organizations, teachers learned how to systematically and continuously create materials, assess the quality of the resources from the Internet, and use them effectively in the classroom.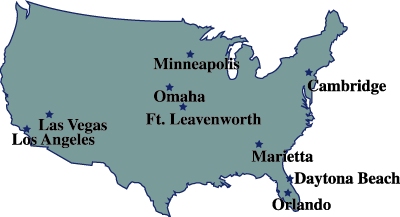 Click on any of the cities on the map to see a description of each hubsite and its projects.